The Marangona
There is one very special bell in Venice and it has a name. It is the Marangona. It is located in the great campanile in Piazza San Marco and is the only one of the five original bells to survive the collapse of the tower on July 14, 1902. It is an ancient bell or unknown origin and it has the most beautiful, haunting, and mellifluous tone of any bell we have ever heard.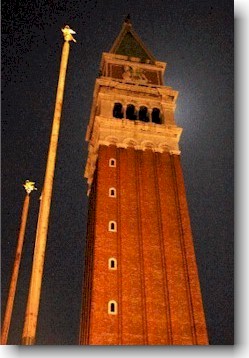 Click on the campanile to hear a clip of the Marangona at midnight.
The campanile of San Marco was originally built in the 9th Century as a watch tower for the harbor and was later rebuilt to its present look by Bartolomeo Bon in 1514. Bon was one of the most important sculptures and architects of Gothic Venice who gave us the glorious façade of Ca' d'Oro.
Each of the original five bells had names and were rung to signal a specific events: the Maleficio signaled that a capital execution was going to take place. La Trottiera called magistrates to the Palazzo Ducale; La Nona rang at the ninth hour; The Pregadi announced meetings of the Senate. The Marangona rang the beginning and ending of the work day and was named after the marangoni, the carpenters, but the term was synonymous for workers.
In 1912 the campanile was rebuilt exactly as it looked before it collapsed. If fact, they used as much of the original material as they could. So, many of the bricks date to the beginning sixteenth century.